MYBOS RETAIL BILLING BASIC
Easy to use Retail Billing Software for Small Businesses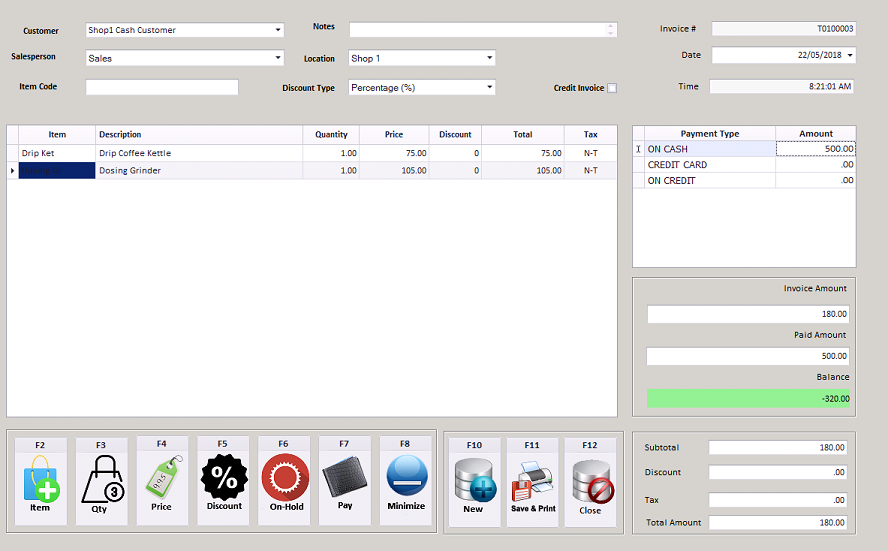 What is the importance of invoicing in business?
The importance of invoicing in business because an invoice provides detailed information about the sale, including product, pricing, terms of sale and it also helps you to gather vital data for your business decision making. With MYBOS Retail Billing - FREE edition you can easily create and print invoices/point-of-sales to your clients. It's time and money saving tool, also reduce the paperwork.
Importance of Computerized Billing System
1. Do you have a complete visibility of your business now?
2. Do you feel the expansion of your business has conferred lesser control over your operations?
Business is about keeping yourself informed
We are sure the answer for above questions is going to be a blunt, bold and a resolute, as the case may be. Control over ones business operations with a formidable computerized system confer a streak of success and relief.
These are not mere questions but they are the prime and primordial factors which if neither delayed or denied will cause a serious disruption in the revenue of business. Everyone, no doubt wants to be in par and move with the growing technology. But, the latent and bitter fact is that the IT, (i.e) retail business management software always gets the least importance when it comes to retail business there by always making it an inconsequential decision.
When a person intends to start a new business venture the process goes thus:
1. Finding a location to start the shop.
2. Analyzing the competitors in the surrounding area.
3. Identifying the suppliers for replenishing stocks.
4. Bargaining with suppliers for better margin.
5. Engaging with concerns for supplying racks and shelves.
6. Getting the stocks in place.
7. THINKING OF HAVING A COMPUTERIZED BILLING SYSTEM IN PLACE.
Old school thinking:
The computerized billing is always an "INCONSEQUENTIAL" decision. The proprietor needs to foresee the consequences of not having a computerized billing system well in advance to be counted in the market over the long run. The computerized billing system in place can confer bountiful benefits that can take away tensions and take your business to glorious heights.
Start to Streamline Your Business
MYBOS Retail Billing (Basic Edition) will help you to streamline your company's billing process. The efficiencies can be gained in a variety of places throughout your business and this will create a stepping pathway to automate your other functions of your business.
MYBOS Retail Billing (Basic) Features
Download Free
System Requirements